The Electronic Point of Sale system
that's perfect for your business.
We've been around since 1996, and since the day we were formed we've been pushing the boundaries of EPOS, creating agile features to improve your business.
Find out how the world leaders in EPOS for PC and Android can design a great solution to benefit your business, which will grow alongside your business to deliver stunning results.
Advanced features: today and for the future
You can make your system as simple or advanced as you desire, and you'll have expert support ready to guide you through absolutely everything, ensuring you make the most of your EPOS.

Automate your accounting
Get ready for automatic accounting with AccuPOS EPOS. As the only product ever endorsed by Sage, as well as the #1 ranked EPOS on the QuickBooks Marketplace for seven consecutive years, you know that you're getting the very best with AccuPOS.
Lightning speed
We've designed our interface with speed in mind, ensuring that everything is simple to use, even for new users. This means faster-moving queues, and more cash on your bottom line.

Understand your figures
Access your reports instantly with AccuPOS EPOS. Pull off reports instantly, allowing you to make the best business decisions and ensure your business keeps on growing.

Boost customer loyalty
It's your biggest goal – to get customers to return again and again. To help you realise this goal, we present you with a number of options, including loyalty programs and easy customer data collection.

Remote business management
Do you want access to your business, wherever you are? With AccuPOS EPOS, you can log in and monitor your entire EPOS system from anywhere, keeping you connected wherever you are.

Seamless addition of hardware
AccuPOS really is the only EPOS you'll ever need. The reason? You're able to scale your bundle as your business grows, easily adding new hardware with the minimum amount of fuss. After all, why should you be penalised for growing your business?

Make timesheets easy
Fed up of chasing staff for their timesheets? Now you don't have to, as the optional AccuSHIFT add-on means staff can clock in and out directly on your EPOS system. All hours are then sent automatically to you.

Quick and easy stock management
Receive deliveries wirelessly, easily change inventory counts, and adjust pricing, all using one handheld device. This feature comes as standard to everyone ordering AccuCOUNT, our fantastic inventory management software add-on.

Receipts via email
Stop wasting paper and start collecting customer information with emailed receipts – a great way to grow your marketing strategy with minimal cost. You'll still be able to pull details of receipts any time though, just in case you have the need.

Fully EMV Compliant
We've ensured that our entire system complies with EMV regulations, therefore meaning your business and customers are protected. What's more, you can use your existing EMV compatible hardware, or purchase everything you need from us.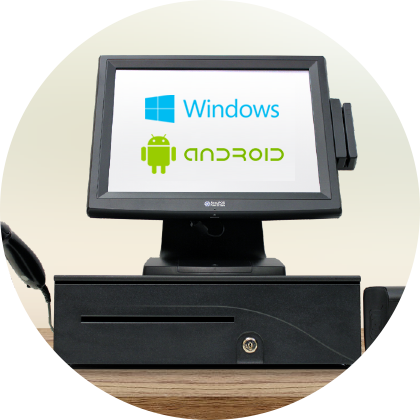 Purchase discount bundles from us,
or stick with your own compatible hardware
AccuPOS supports an unrivalled number of hardware options. Windows PCs are the most commonly used desktop computers in the world, while Android is the world's most popular mobile OS – and both are compatible with AccuPOS Electronic Point of Sale. Therefore, you have loads of choices when it comes to your hardware, including many great pieces of hardware offered by AccuPOS, such as All-In-One Touchscreen PCs and Android tablets. Or you can keep your existing compatible hardware, which has served your business so well in recent times.
Discover your perfect Electronic Point of Sale.
Talk to a consultant on 44 (0) 207 797 97727 or…
World-renowned service
Our customers are the most important thing to us, and we ensure that they are cared for 24 hours a day, 7 days a week. After all, your success leads to our success, so we want your business to thrive. That's why we've won awards for our customer service, and are loved by customers throughout the world.

Around-the-clock customer care
We know that you might need us at any time, which is why we're always here to help you, every hour of the day. Whatever questions you have, our team will happily answer them, regardless of whether it's midday or midnight. That's how committed we are to seeing your business succeed.

With you now, and in the future
We'll be by your side from your business' first day, and we'll stay by your side well into the future. There's no need to ever go through the EPOS purchasing process again, as AccuPOS will grow with you, ensuring that you always have the equipment and software you need.