The Industry's #1 EPOS for Sage Accounts Customers
Save countless bookkeeping hours with the most detailed bidirectional Sage Accounts integration available anywhere.
Share sales, customers, items, stock adjustments, price changes, gift card liabilities and even unpaid invoices.
Get Started
EPOS System for Sage 50 Accounts

AccuPOS ePOS system for Sage 50 Accounts has seamless integration. There are many reasons why Sage 50 Accounts is regarded as one of the best – if not
the
best – accounting systems in the world, and the new version adds even more fantastic features to benefit your business.
Above everything however, Sage always concentrates on providing you with the maximum amount of profit, allied with a minimal amount of hassle and a strong focus on giving your customers what they want.
Sage 50 Accounts is generally referred to as the "back-end" of your business, while your EPOS system is the "front-end." When the two work together in harmony, you have a great recipe for success.
Get complete understanding of your sales
We don't dispute the fact that most EPOS system are able to integrate with Sage 50 Accounts, however the level that they integrate is not always particularly high. AccuPOS EPOS is the only system to provide all line item details though, meaning that every aspect of a transaction is sent to your accounting software, leading to the clearest picture possible of your sales activity.
The above process is referred to as Line Item Accounting Integration. It is the only way in which you can obtain the information that allows you to correctly judge and plan your company's growth, and make the decisions that are necessary to keep your company heading in the right direction.
You'll also find that this information is enhanced by the specific reporting and projections available in Sage 50 Accounts, which include: Vendors & Purchases, Customers & Sales, Inventory & Services, Banking and Employees & Payroll.
Optimum integration with Sage 50 Accounts
AccuPOS EPOS is specifically designed to integrate seamlessly with Sage 50 Accounts, plugging up the previously found holes in your accounting needs. When the accounting abilities of Sage 50 Accounts are coupled with the line item integration offered by AccuPOS EPOS, you'll have the most complete and accurate accounting system possible, trusted by businesses throughout the world. Just think of us as an extra addition to your Sage 50 Accounts software – an extra addition that enhances and expands your accounting capabilities by huge amounts.
Let AccuPOS start making you money today!
Your information is secured with us.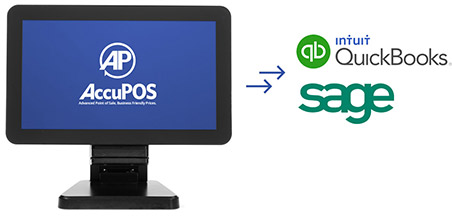 DelGrosso's Amusement Park
Tipton, PA
Adding AccuPOS to our Sage 100 ERP application has been a big success. We are working with relevant, current data. We now have access to data that we could not even begin to collect and analyze before.
Doug Sleeter, The Sleeter Group
Accounting Solutions Experts
AccuPOS is awesome because it fills a niche that many QuickBooks users in the retail and hospitality industries need: overall design, outstanding features and conformance with appropriate accounting standards.
Ken Silberstein
Quickbooks, Professional Advisor
Fantastic! I have been  been utilizing AccuPOS Point of Sale for several years now to accommodate Point of Sale needs that integrate quickly and easily with QuickBooks for Windows. As our needs have grown, AccuPOS has grown with us!