Rated #1 QuickBooks EPOS By QuickBooks Customers
Save countless bookkeeping hours with the most detailed bidirectional QuickBooks integration available anywhere.
Share sales, customers, items, stock adjustments, price changes, gift card liabilities and even unpaid invoices.
Get Started
Awarded Gold Developer Status by QuickBooks

QuickBooks UK Desktop and QuickBooks online are one of the most popular financial management programs on the market, thanks to the fact that it offers such a huge amount of different features to businesses of all shapes and sizes.
These features include sales receipts, expense tracking, invoicing, sales tracking, and payments. They also include vital features such as inventory management and financial statements. Essentially, it does everything you could possible need from a piece of accounting software.
There's no denying the fact that QuickBooks UK desktop and online versions can operate as a basic EPOS system, however it quite simply isn't suitable for most businesses nowadays. This is because it is cumbersome to use and lacks the speed needed to perform at the highest level. What's more, it is only able to print receipts that are 8.5″ x 11″, thus limiting your receipt options massively.
If you have QuickBooks UK desktop or online version, there's no need to be concerned by your EPOS though, as AccuPOS can come to the rescue. We can integrate our ePOS System for QuickBooks UK desktop or online, ensuring that you have a great accounting system with the best possible ePOS as well.
If you choose to purchase AccuPOS ePOS System for QuickBooks, you'll find that your entire business is streamlined in seconds. The result will be happier staff and happier customers, both of which should lead to a happier you! Just consider all that this software has to offer you.
Our QuickBooks UK Integration Slideshows:
For Restaurants/Bars
For Retail
How AccuPOS EPOS Works in Harmony with QuickBooks UK Desktop and Online
AccuPOS Electronic Point of Sale is designed to give you the two things you need: the ability to utilize the powerful QuickBooks UK desktop or online back-end for your accounting, as well as the ability to have a fast, powerful and intuitive ePOS System for QuickBooks at your front-end. What's more, both of these will work together perfectly, ensuring that your business is able to run seamlessly. Why not call us today on 44 (0) 207-979-7727 to find out more about how AccuPOS EPOS can integrate perfectly with your QuickBooks UK desktop or online system? Our EPOS system has made us an official QuickBooks Gold Developer, meaning that we are "a group of trusted, independent developers and industry experts who have partnered with QuickBooks to create software applications that solve specific business needs for QuickBooks UK customers." What's more, our EPOS is rated as 9.5/10 on the QuickBooks Marketplace, in the areas of
"Ease of Use and Reliability," "Technical Support and Overall Quality," and "Customer Willingness to Recommend." This recognition doesn't make us complacent, as instead it ensures that we keep working in partnership with Intuit to develop the best possible harmony between the two products.
ePOS system for QuickBooks UK: FAQs
Which versions of QuickBooks UK are compatible with AccuPOS EPOS?
AccuPOS EPOS is fully compatible with the latest versions of QuickBooks Desktop and QuickBooks Online.
How does the system work?
The first step is to set up your inventory items in QuickBooks, before they are then automatically found by AccuPOS EPOS (as well as customer information, if requested) and copied into a local database. After this, you can set up a custom EPOS screen to suit your own business' requirements, with the ability to group items into different pages or sections. When a customer comes to the till, you process their order on the EPOS, and the information is then automatically passed over to your QuickBooks accounting software, so your accounts can stay perfectly up-to-date. If you ever need any help with the AccuPOS EPOS software's integration with QuickBooks, our customer service team is always ready to give you advice.
When is sales info added to accounting?
Every time a shift ends and a "Z" report is created, AccuPOS EPOS will provide a reset report, as well as automatically update QuickBooks with detailed sales information. This process is the same regardless of whether the accounting program is local or based off-site. The process really is seamless, and will knock huge amounts of time off your workload every day.
Can other sales transactions be processed using QuickBooks?
They certainly can, as AccuPOS EPOS has been designed to ensure that you aren't restricted in any way. Therefore, you'll be able to process things such as web orders and mail orders directly via QuickBooks, or by using a compatible piece of third party software. Any information delivered by your EPOS will then simply get added onto your other processed transactions, providing you with a full overview of your financial activity.
External Links for more information: Awarded The Sleeter Group's "Awesome QuickBooks Add-on" Ranked 9.5 out of 10 in the QuickBooks Solution Marketplace
Let AccuPOS start making you money today!
Your information is secured with us.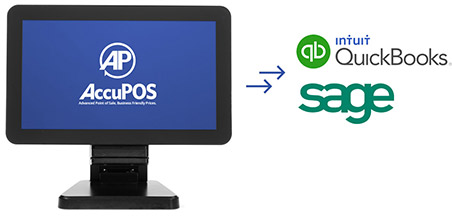 DelGrosso's Amusement Park
Tipton, PA
Adding AccuPOS to our Sage 100 ERP application has been a big success. We are working with relevant, current data. We now have access to data that we could not even begin to collect and analyze before.
Doug Sleeter, The Sleeter Group
Accounting Solutions Experts
AccuPOS is awesome because it fills a niche that many QuickBooks users in the retail and hospitality industries need: overall design, outstanding features and conformance with appropriate accounting standards.
Ken Silberstein
Quickbooks, Professional Advisor
Fantastic! I have been  been utilizing AccuPOS Point of Sale for several years now to accommodate Point of Sale needs that integrate quickly and easily with QuickBooks for Windows. As our needs have grown, AccuPOS has grown with us!